Discover more from Contents and Containers
Faith, Politics, Christianity, Pop Culture
RZA of Wu-Tang channels his inner Paul
It would seem like the Apostle Paul had 21st Century residents of the U.S. in mind even when he wrote to the Romans 2,000 years ago. It's not surprising that Christians that emerged out of the Empire that so influenced the Western world were struggling with similar problems that we are today.
Of course, this is more likely a human condition than just a Western one. But he quite simply tells the Romans in the twelfth chapter of his longest epistle to stay humble and stay in the body. I think Paul knows how hard it is to stay connected to the church, to a community. He says, stay connected to community, stay connected to God, and don't just conform to your culture that no one can tell the difference!
Here's what he says in what might be a familiar passage to you:
For by the grace given me I say to every one of you: Do not think of yourself more highly than you ought, but rather think of yourself with sober judgment, in accordance with the faith God has distributed to each of you. For just as each of us has one body with many members, and these members do not all have the same function, so in Christ we, though many, form one body, and each member belongs to all the others. We have different gifts, according to the grace given to each of us. If your gift is prophesying, then prophesy in accordance with your faith; if it is serving, then serve; if it is teaching, then teach; if it is to encourage, then give encouragement; if it is giving, then give generously; if it is to lead, do it diligently; if it is to show mercy, do it cheerfully. Romans 12:3-8
Paul is telling the Romans to believe that their true identity and their true selves only comes from God. The Message even summarizes Paul this way, "The only accurate way to understand ourselves is by what God is and by what he does for us." Paul is committing the Romans to humility. And committing them to being in a body as diverse as the Kingdom of God is. We're all different, but we're all part of the body.
In Circle of Hope, we think the best way for people to know God  is to be in a cell. We were contemplating how to talk about Jesus on our website the other day, and we concluded that relationships with Christians is really the best tool people have to know Jesus. It's not about doctrine being consumed, it's about dialogue. That's what keeps us together.
But it's really challenging for people to find their identity being a part of the tribe. The tribe isn't rational and didactic . It's not a contemporary advent and it finds its place in ancient history. So it might offend the modernistic among us. It's not based on rules. It's based on relationships. And relationships that God is in and inspires. I think RZA, of the Wu-Tang Clan gets it.
Twenty years ago, Wu-Tang released what is probably the greatest hip-hop record ever—and probably my favorite record of the 1990s. Enter the 36 is really more than a record; it started a movement. It's not a surprise that RZA, who was the mastermind behind the whole thing, is really excited about Wu-Tang releasing a record commemorating it's twentieth anniversary. He told the New York Times last year that "there's on last job Wu-Tang Clan must do."
A Better Tomorrow was apparently supposed to be out in July. But it's November and still no new flow from Wu-Tang. This week, RZA, who is surprisingly acting like a modernistic leader that Paul is talking about, addressed the issue. He details it all in an interview with Grantland. He said this about his partners:
And one of the guys who showed up the most was Method Man... Masta Killa be representing. Inspectah Deck has been somewhat present. Ghost has been, you know, 20 percent present. And Raekwon hasn't shown up at all. When you look at somebody like Masta Killa and U-God, they seem to have that original hunger to complete the legacy. I respect that everybody [is] busy with they own lives. I started with a plan that I thought would work. Now maybe my plan not working.
The world in the eyes of RZA, I know. There's more to the story. Part of it might be that Wu-Tang really formed so that a bunch of no-name rappers might get their careers started; and if you ask GZA, Ghost, and Method Man--it worked for them. Unfortunately for RZA, his tracks (and movies) aren't really noteworthy. You could lump Masta Killa and U-God in the same category, who have also had lackluster solo careers. Not surprisingly, he offends Raekwon with his criticism. To which, Raekwon tweeted (gosh, the Internet!):
https://twitter.com/Raekwon/status/399248000179904513
But I still can relate to RZA's difficulty. He is trying to lead. It might be about his insecurity. He did make Wu-Tang what they are today and has no solo records to show for it. But in the defense of RZA, it's hard to organize a body to do something, especially when individual success is more alluring. We know that in Circle of Hope. Careers, houses, mortgages, children, graduate school--they can all get in the way of being a part of a vital community. RZA gets it and so does Paul when he writes to the Romans.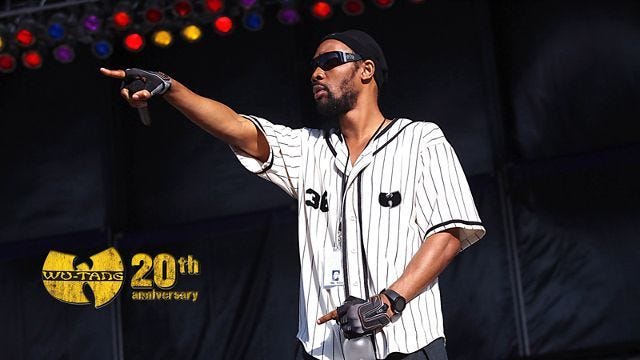 RZA basically says that Wu-Tang made their best records when they were together. A good counterpoint to the idea that he might just be jealous of his friends' success.
He channels his inner Paul. I suppose this is his summary of Romans 12:
These guys are great by themselves any [freaking] way. But they are greater when we come together! I'm doing a lot of things… but when I was with the crew, I was doing great work. You become immortalized off of great work. I say, "Yo, Ghost, you been doing good work. Ten albums! But if you look at the history, your only platinum ones are the ones I produced." Same thing to Raekwon, same thing to Method Man, same thing to GZA. Even myself. I got gold albums by myself but I got platinum with Wu-Tang. Whatever element that we bring together, that's more powerful than the element of us being apart. We come together, we make platinum, G.
RZA might need to learn more about cooling it off and having his conflict directly (and not in an interview). And he might need to work out his insecurities. But I agree with him. Even though he is looking for material success, I like his idea that we are better together. Our identity needs to come from God alone (and yes, not from selling records) and we need to express in a community. God is in us individually, but also in the church, even more clearly.
So let's do it together. And Wu-Tang? Do it together for this fan who is anticipating what is hopefuly better than the sum of your parts.