Discover more from Contents and Containers
Faith, Politics, Christianity, Pop Culture
Ron Woodroof changed in all the right ways
So my infatuation with Matthew McConaughey continued as I observed him in an astonishing performance in Dallas Buyers Club. He and Jared Leto were so brilliant, I was so easily and readily drawn into Jean-Marc Vallée's drama. They both won Academy Wards for their performances, and even though McConaughey's Oscar speech was nonsense, he still won me over.
The film takes place in Dallas, Texas and chronicles Ron Woodroof, a gambling, hard-partying, rodeo-addicted electrician. Ron's drug use and multiple sex partners have led him down the dark road of HIV, all the way to full-blown AIDS. Ron's disbelief of the condition only lasts for a moment. He eventually starts swilling whiskey and tons of FDA-approved AZT. AZT is toxic and its dosage was extreme, hurting patience more than helping them. Ron travels to Mexico to find more of the drug, and ends up with its alternatives. He meets a compassion doctor with whom he does business. Ron's wages a war against the FDA and big pharma, which leads him down many paths and it is a delight to watch the character transform, even as his body struggles through the horrific virus that has held it captive.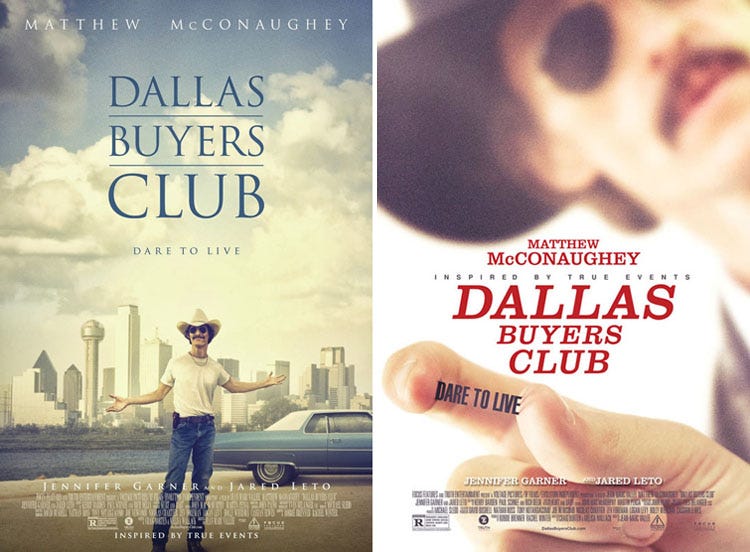 It's always nice when the whole thing is based on a true story because it really helps us realize that all of the lessons Ron learned and Vallée dramatized are real and actually happened to a human being.
One of Ron's main virtues is that he knows when to change and when not to. He knows when to drop his anchor, and his knows when to lift it. The first thing he needs to change is his substance abuse. The doctor he's befriended in Mexico tells him the hard drugs he is doing are worsening his condition and he needs to get off of them. He cleans up, and he brings that level of tenacity to his friends.
Rayon, a transsexual person that had contracted AIDS as well, is addicted to drugs. Ron holds her accountable until her untimely death (he storms through the hospital claiming everyone in the joint are murderers when he can't contain his emotions). Ron is learning how to love, but he doesn't lose his commitment to the truth through it. Ultimately, Ron's hostility toward Rayon lessens, as does his homophobia in general.
In one scene, in a grocery store, Ron makes one of his drinking buddies (all of whom have abandoned him due to the stigma attached to HIV) shake Rayon's hand while putting him in a headlock. Ron's still impolite, out of touch with his feelings, and harsh. But his compassion increases, that's for sure.
He uses all of the toughness he's acquired as an electrician and as a rodeo man to fight the FDA and the corporations that support the government agency. He doesn't lose his edge, but he uses it for good, to help others. He's transforms, he uses the good in him and changes the bad.  Even the toxic AZT he advocates against is still used today to help people with HIV/AIDS--it's not all bad. What is?
Ron's ambitious when he begins the buyers club, which sells memberships in exchange for the non-toxic and effective protein Peptide T. He eventually focuses less on the money ($400 a month), and more on the good work he is doing.
It's amazing what a tragedy will do to us even when we open ourselves up to it. Ron denied he had HIV and couldn't believe he have a disease that was so readily associated with all the people to whom he held a prejudice. But he finally opened himself to it, and that changed him. Embracing our suffering is a game changer.
Ron's attitude toward people different than him, toward his values, and toward his friends changes as a result of the disease that is debilitating him. He lives for seven years longer than the thirty days his doctor told him he had left. But he doesn't lose everything, he still uses his gruffness, his shrewdness, and his strong will to do the right thing. And I salute him for that.
In some ways, that's exactly the transformation that Jesus wants us to have. We do become new creations, but more than anything, we are restored to our original forms.  We still have lots of good stuff and the grace of Jesus completes us. Ron wasn't all bad, even at his worst, and he uses his good stuff to change the world, truly. He knew when to change, and when not to.
What is God calling you to change? When do you need to lift your anchor? When do you need to drop it?